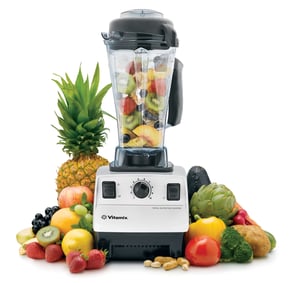 $

795.00
$795 PRICE INCLUDES SHIPPING
The NEW Vitamix (5200) makes whole food juice, smoothies, cooks steaming hot soup from scratch, and even makes healthy, homemade ice cream!
Everything is done in just MINUTES with NO ATTACHMENTS! This amazing machine performs over 50 different culinary jobs with ease - and can easily replace 10 kitchen appliances.
No matter who you are you can Look Better, Feel Better, Live Longer and have a lot more time to enjoy life! Buy your Vitamix machine today!!
7 YEAR WARRANTY
Vitamix (5200) includes:
Patented Spill-Proof Vented Lid
Co Polyester 2 Litre Wet Container
Hammermill Stainless Steel Blades
Variable Speed Motor (220-240 Volts)
Heavy-Duty Wear-Resistant Base
Unique Tamper Tool for Extreme Processing Power
Whole Food Recipes Easel Cook Book
Getting Started Cook Book
Let's Get Started DVD
7 Year Warranty
Prices shown in Australian Dollars
Prices include shipping within Australia only, there will be extra shipping cost for anything shipped out of Australia.
Please email to discuss support@rachaelsrawfood.com