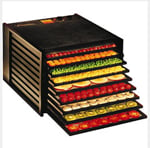 $

360.00
PRICES INCLUDE SHIPPING
The Excalibur Compact Dehydrator sets the industry standard for overall design and value. Excalibur Dehydrators are simple to use and will provide years of quality service. Available in black and appliance white, all models come equipped with a black door and trays.
Available in two colours, BLACK or WHITE and there is a range of models to choose from 5 tray and 9 tray.
There is also an option to purchase with a timer or without, please select the product in the drop down menu below. Products with a timer are the following codes 4526T and 4926T.
All come with a 5 YEAR WARRANTY
5 Tray Size: 20.5cm high x 43cm wide x 48.5cm deep
9 Tray Size: Size: 20.5cm high x 43cm wide x 48.5cm deep
Prices shown in Australian Dollars
Prices include shipping within Australia only, there will be extra shipping cost for anything shipped out of Australia.
Please email to discuss support@rachaelsrawfood.com